Heart surgery
By Alan Richter, Editor
Click Here for a free subscription to Cutting Tool Engineering magazine.
Repairing a spindle—the heart of a machine tool—is more economical than buying new, but part manufacturers need to understand the process.
One day you notice chatter marks on parts produced on a machine tool that previously wasn't giving you a problem. Nothing's changed—except possibly the condition of the spindle.
Multiple clues indicate a spindle needs to be repaired, or rebuilt, including excessive noise, vibration, loss of part tolerance, rougher surface finish, heat buildup and spectrum analysis readings that indicate the bearings are impaired or destroyed.
Usually, a spindle problem first shows itself in the workpiece, noted Mitchell Kirby, vice president of manufacturing for Riten Industries Inc. "You'll find you're not getting the finish you used to get," he said. The Washington Court House, Ohio, manufacturer of face drivers and live and dead centers also repairs Heald Red Head and other pulley-type ID grinding spindles under 10,000 rpm.
Cause for Concern
The causes of an "unhealthy" spindle are as numerous as the signs something is wrong. According to GMN Paul Müller Industrie GmbH & Co. KG, a German manufacturer of machine tool spindles, a collision, or crash, is the cause for 60 percent of damaged spindles, followed by wear at 11 percent, leakage at 9 percent and lubrication issues at 7 percent, with other reasons accounting for the remaining 13 percent.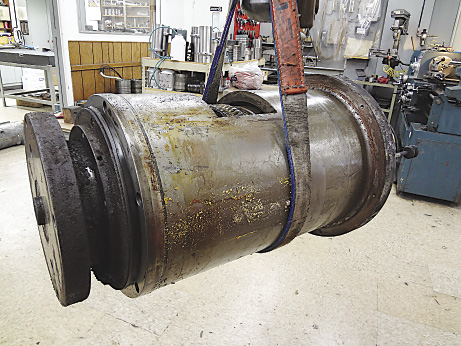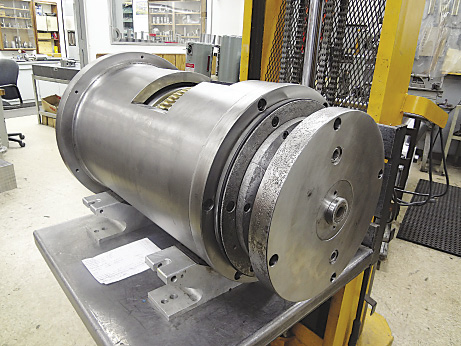 Courtesy of Precision Spindle Service
A machine spindle before being repaired (top) and after Precision Spindle Service repaired it.
A machine crash, however, is subjective and difficult to define without witnessing it, according to Doug Kranz, vice president of sales and marketing for Fischer Precise USA Inc., Racine, Wis. The company makes three core spindle brands—Fischer, Precise and Fortuna—and repairs those spindles and ones from other manufacturers. "You can maybe see signs of overload, but the number one contributing factor for spindles coming in for repair is vibration during the cutting operation," he said. That's especially the case when machining large, complex components with lots of tight corners, which are often produced on large machines by applying long-reach cutting tools, Kranz added.
Fischer Precise offers the SmartVision monitoring system that allows customers to track vibration and the operating condition of their spindles while running part programs. "Then we can identify some of these high-vibration areas and better match cutting strategies and help them do a better job of keeping the spindle in the part with less vibration," Kranz said.
Spindle contamination and overload are the second and third most common causes, respectively, according to Kranz. "You can call overload a crash, but a spindle doesn't necessarily need repairing after simply hitting the bed of a machine," he said. "Spindles are resilient to some amount of impact."
According to Kirby, wear and tear are the primary reason a user sends Riten an ID grinding spindle for repair. "The bearing assembly is a rotating element," he explained. "You run it long enough and hard enough, eventually the bearings begin to wear and need to be changed."
Unlike other types of machine spindles, an ID grinding spindle is a very specific product and, in some sense, an interchangeable accessory, Kirby emphasized. Such a spindle is distinctly different than a bearing assembly in a tailstock, which is integral to the machine whether it's a vertical turning center, a lathe, grinder or other type of machine. "I have multiple grinding spindles for some of my machines," he said. "They're ID grinders that accept a self-contained grinding spindle." An OD grinder, on the other hand, may have a live or dead tailstock. "In the case of a live tailstock, it's still a bearing assembly that rotates, but it's not interchangeable," Kirby added.
Being a highly engineered mechanical system, a spindle has numerous components, any of which might be where the damage occurs. GMN stated that the list includes, in order of absolute frequency, a bearing defect, loose rotary feed-through, defective rotary encoder, broken or bent pull rod, faulty clamping sensor and defective temperature sensor. And the list goes on.
At Your Service
Whatever the cause, a problematic spindle will not heal itself. It's best to use a specialist when repair is needed, according to David Marshick, co-owner (along with William Foy) of Precision Spindle Service Co. Inc., Ferndale, Mich., which repairs spindles with speeds up to 124,000 rpm. The shop was founded in 1946.
While a parts manufacturer might have emergency spindle repair personnel, very few can provide a complete repair, he said. "It doesn't matter if it's a horizontal, vertical, grinding or milling machine. Anything in the super-precision ball bearing industry is what we repair."
Marshick added that in-house spindle repair was more prevalent a decade ago, primarily at large manufacturers. However, it is costly to maintain that capability because repair technicians must work in a clean-room environment, ideally with a controlled temperature and atmosphere, and even hair and industrial smoke can damage a spindle assembly. "The repair business is booming because they've limited or cut those programs," he said.
"Cleanliness from start to finish is obviously a top priority," concurred Fischer Precise's Kranz. "When talking about tolerances and cleanliness, we are living in the world of microns, and 3µm is big in our world, so the smallest particulate can cause you a problem during a spindle build."
Kranz estimates that it would cost about $1 million to purchase the equipment needed to properly analyze, test, troubleshoot, balance and support a repair service for high-speed, cartridge-type machine spindles. Although Fischer Precise performs complete spindle repairs at its facility, he noted the company has two field representatives that perform partial repairs at a customer's site, such as fixing a bad encoder, a failed sensor or a broken HSK tool gripper assembly. In-field repairs can save customers a significant amount of time and money. Although contamination is a concern while executing an on-site repair, a technician can successfully complete the job with proper care and attention to details, he added.
Occasionally, an in-house repair ends up being sent to a dedicated repair facility. An attempted customer repair, for example, shows up when a repair service provider checks the shaft and sees the bearing seats are worn and don't have the proper fit, Riten's Kirby explained, noting the shoulders that the bearings shoulder up against must be perpendicular within 0.0001″. "If the bearing is fretting on the raceway, where it's actually moving, or the shaft itself is flexing," he said, "then those shoulders get out of square and need to be reworked."
Sourcing Bearings
Having reliable sources for bearings, which are not reused when a spindle is rebuilt, is also critical for spindle repair companies. Not always easy to locate even in the best of times, bearing availability became particularly difficult during the Great Recession when bearing producers limited inventory to control costs, but has improved along with the economy, Precision Spindle Service's Marshick noted. However, "it still takes some time and you need a lot of different sources," he said.
"High-precision bearing supply is of utmost importance," Kranz said. "If you don't have it in stock or readily available, you cannot serve customers with the lead times they deserve, and some bearing lead times can stretch to 6 to 8 months."
He added that Fischer Precise has to predict demand and maintain and invest in its own stock of bearings. "We have about $2 million in bearings sitting in what we call the 'vault' in our stockroom just to support our own product line," Kranz said. "We have such a vast array of [bearings for] our product that we're able to service third-party product as well—any other spindle." If a type of bearing isn't in stock, the company has locations in Europe and Asia that it can pull from.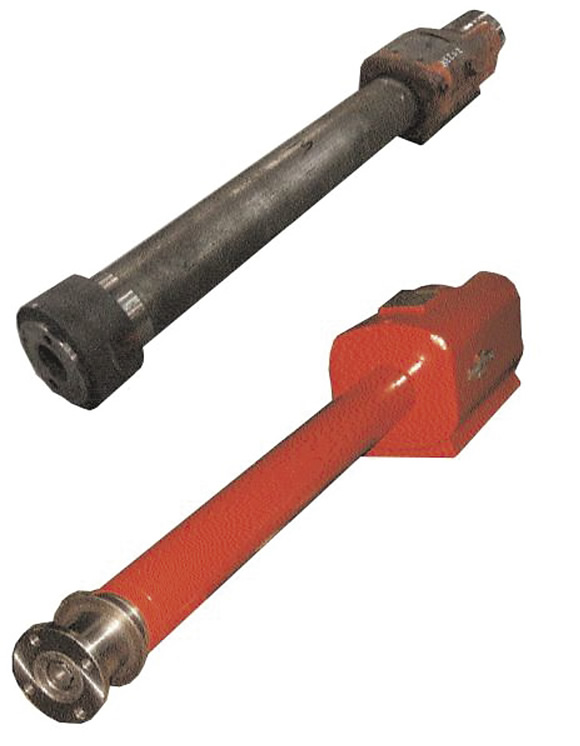 Courtesy of Riten Industries
A before (top) and after photo of an ID grinding spindle repaired at Riten Industries.
After bearings are changed, the spindle must be balanced to ensure adequate bearing life. "When the bearing assembly is out of balance, it wants to vibrate and you see chatter in the workpiece," said Riten's Kirby. "You also put an additional load on the bearing assembly, so the bearings wear rapidly because the unit is out of balance. That becomes more critical as rpms increase."
In addition to installing new bearings and balancing, a full spindle rebuild at Precision Spindle Service can involve spindle disassembly, remanufacturing of the cone and housing bores, remanufacturing and rechroming the shaft, and work on the hydraulics and electronics, Precision Spindle Service's Marshick noted. To recondition spindle components via turning, milling and grinding, the company has a "full faceted" machine shop, he said. "We repair whatever the failure mode is. Normal turnaround is 3 weeks."
Kranz explained that Fischer Precise has a defined process when repairing a spindle and starts by obtaining as much information as possible from the customer should the failure mode or service need not be clearly identified. For troubleshooting purposes, the company requests that any tooling in the spindle when problems occurred be included. "We start from the outside in," he said. "We have several incoming checks and a 54-point inspection as we disassemble the unit. As we're taking the spindle apart, we're checking all the systems, including cooling, bearings, bearing carriers, housing, lubrication condition and supply, shaft, rotor and clamping."
Typical lead time for a complex spindle repair is 4 to 6 weeks, but the company can execute a repair in 1 to 2 weeks by working extra hours and during the weekend based on customer need, according to Kranz. Replacing a spindle with a new one takes 18 to 20 weeks, he noted. A repaired spindle also costs less, with the rule of thumb being 50 percent or less than the cost of a new one, which equates to significant savings for a high-performance spindle that can cost $75,000 or more, he added.
Maintenance Matters
Age can dictate whether it's economically viable to repair a spindle. Precision Spindle Service's Marshick said it usually makes more economic sense to replace a spindle that's more than 20 years old, but if a replacement spindle isn't available, replacing the machine costs considerably more. "Sometimes the customer says, 'Hey, this is a great machine and I'll dump the money into it, just keep it running for another 7 to 10 years."
Marshick added that end users also look at rebuilding spindles when there are long lead times for new machines and availability is tight.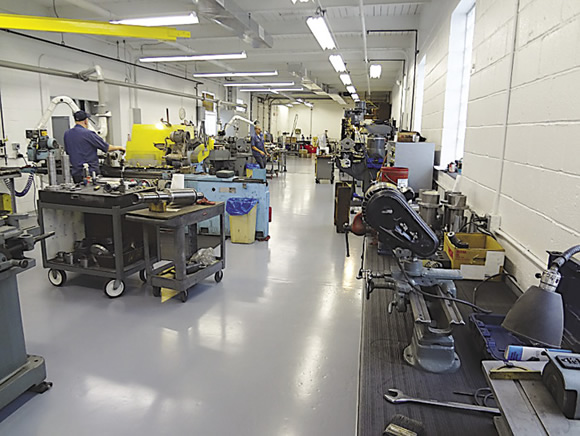 Courtesy of Precision Spindle Service
Precision Spindle Service's grinding and machining department reconditions spindle components during the rebuild process.
Similar to any piece of machining equipment, users can maximize spindle life with proper maintenance. Maintenance, however, primarily requires taking care of a spindle's peripheral supplies and operating condition, including bearing lubrication, coolant, and air pressure and flow. If a spindle has a chiller for temperature control, that must be maintained as well, Fischer Precise's Kranz pointed out.
"There's not a lot you can do to the spindle itself while it is in the machine to 'change its oil' so to speak," he said. "You make sure everything around it is in the best possible condition, because the spindle is really the heart of the machine. If the spindle system is taken care of, the spindle will last thousands and thousands of hours."
When it comes to grinding spindles, Riten's Kirby concurred that it's not advisable for end users to open them to perform any maintenance because they are lubricated at the factory for the life of the bearing assembly. Maintenance, then, means minimizing coolant and contaminant infiltration into the spindle and otherwise keeping it clean.
Because there are only so many rotating hours on a ball bearing, a machine tool spindle is a perishable item and will eventually need repair no matter how well it's maintained. When that occurs, Marshick recommends seeking a repair service provider that is dedicated to spindles rather than a "grab-all shop" that handles all machine tool repair work. "Reputation is probably the most important consideration," he said. CTE
---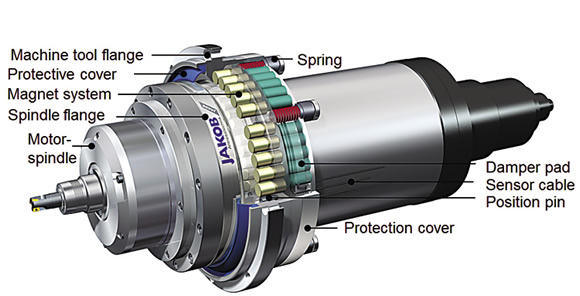 Courtesy of Jakob Antriebstechnik
The mechanical components of the Jakob motor spindle safety system enable the controlled and reversible decoupling of the main spindle from the machine structure when a collision occurs.
Spindle safety system for crash landings
A machine tool crash, especially one during a rapid movement at 60 m/min. or faster, can damage a spindle, requiring costly repair. During most crashes, manually activating the emergency stop is too slow to prevent damage. Even with proactive crash avoidance via CAD/CAM programming and reactive damage reduction methods, such as electronic sensors and mechanical overload clutches, crashes still occur.
To protect a spindle from collision damage, Jakob Antriebstechnik GmbH, Kleinwallstadt, Germany, introduced the motor spindle safety system (MS3) that immediately disconnects the power transmission at the interface between the machine tool headstock and the motor spindle during a collision. Therefore, the shock-sensitive components in a spindle are protected from the peak impact forces of the crash, according to the company.
In addition, decoupling the spindle from the machine structure reduces machine stiffness, decreasing the collision force. To avoid a loss of machine productivity, this stiffness reduction does not occur until a critical force threshold is exceeded.
Roller bearings are especially susceptible to damage during crashes. Because of the small contact areas between the inner and outer raceways and the rolling element, the maximum allowed contact pressure can be exceeded during collisions. This leads to plastic deformation in the contact area between the rings and rolling elements (brinelling), as well as destruction of the rolling elements.
The MS3 also protects shafts, clamping systems, the transmitter and the rotary feed.
The system's double-flange design incorporates integrated magnets to provide high retention forces and stiffness, the company added. In addition to absorbing spindle shock, the spring and damper elements automatically reset the flange system.
When the sensors of the safety system detect a collision, the CNC immediately stops all axis movements. Immediately afterwards, the machine moves backwards on a return path based on the stored NC program. Then the machine stops at an emergency halt and waits for an operator to check for any damage to the cutting tool, spindle and workpiece. Only after the operator has performed the checks and clearance is manually provided does the control allow the machine to resume cutting or repeat the original machining operation.
Jakob has installed the MS3 on a machine from MAG IAS LLC, Hebron, Ky., at a test facility in Germany, and the machine tool builder is looking at offering it as an option on a few models, noted MAG's Chief Technology Officer Doug Watts. Because the diameter of the motor spindle becomes larger when implementing the safety system, MAG will need to change the machine's structural element that carries the spindle, he added.
In addition to protecting the spindle from damage due to programming errors and human intervention mistakes, a spindle safety system prevents financial losses from machine downtime for spindle repair or replacement, Watts noted.
Because the person that causes a crash doesn't like to own up to it, it's difficult for the machine tool supplier to determine the exact cause of the damage, Watts pointed out. "In many cases, the supplier ends up replacing a spindle for free because they're not able to prove somebody damaged the machine," he said. "If we are able to prevent the damage from happening, in the long run that will save us money and keep our customers more satisfied."
GAM, Mt. Prospect, Ill., is the North American distributor for the spindle safety system, as well as a source for gear reducers, servocouplings, linear mounting kits and automation technology.
—Jakob Antriebstechnik and A. Richter
---
Telltale signs of ball bearing failure
Ball bearings play a central role in a spindle assembly by supporting the spindle shaft and helping provide rigidity. Working against them is vibration, said Bob Cole, spindle repair technician for The Barden Corp., in a video titled, "Spindle Repair: A Primer On Optimizing Spindle Performance." The Danbury, Conn.-based company manufactures precision ball bearings for a host of applications.
In the video, viewable on Barden's Web site, Cole describes 12 ball bearing failure modes and their telltale signs in machine tool spindles.
An excessive load causes severe spalling in the raceways.
Overheating, which can lead to failure, creates a blue-and-black or silver-and-gold discoloration of the bearings.
A lubricant failure can also discolor bearings.
False brinelling, which is the result of excessive external vibration when a bearing is not in motion, produces tiny elliptical wear marks in the inner and outer spindle rings at regularly spaced intervals in the axial direction.
True brinelling occurs when loads exceed the elastic limits of the bearing material, producing more pronounced indentations in the rings.
Spalling or fractures in the bearing running surface is produced by normal fatigue failure.
Bands around the circumference of ball bearings indicate reverse loading, and the angular-contact bearings in machine tools accept loads in one direction only.
Irregular dents or material embedded in the raceways as a result of contamination.
Red or brown stains on the rings indicate a corrosion problem.
Bearing misalignment is the cause if the inner ring has a wide ball path and the outer ring shows a nonparallel ball path.
A loose fit between the housing and outer ring generates scoring or discoloration of the outer ring.
In contrast, an overly tight fit produces heavy wear deep in the ball path at the bottom of the raceways.
---
Contributors
The Barden Corp.
(203) 744-2211
www.bardenbearings.com
Fischer Precise USA Inc.
(800) 333-6173
www.fischerprecise.com
GAM
(888) GAM-7117
www.gamweb.com
Jakob Antriebstechnik GmbH
+06022-2208-0
www.jakobantriebstechnik.de
MAG IAS LLC
(859) 534-4600
www.mag-ias.com
Precision Spindle Service Co. Inc.
(248) 544-0100
www.spindlerebuilding.com
Riten Industries Inc.
(800) 338-0027
www.riten.com
—————————————————————–
Click Here for a free subscription to Cutting Tool Engineering magazine.
*This article is reprinted with permission from CUTTING TOOL ENGINEERING Magazine, and is protected under U.S. and international copyright laws. CUTTING TOOL ENGINEERING Magazine is protected under U.S. and international copyright laws. Before reproducing anything from this Web site, call the Copyright Clearance Center Inc. at (978) 750-8400.