Job training programs see regal results
February 23, 2018 5:48 pm
By Greg Bartlett
Click Here for a free subscription to Cutting Tool Engineering magazine.
The job training programs at Hononega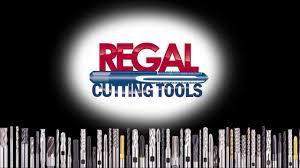 h Community High School and Beloit Memorial High School include job shadowing, mentoring, summer apprenticeships and training workshops at cutting tool manufacturer Regal Cutting Tools, Roscoe, Ill.—but no internships.
Working at Regal Cutting Tools means being considered a normal employee, not an intern, even if the worker is there part time and spending his or her days as a high school junior or senior. Although students are allowed time off for academic-related reasons, such as preparing for college admission tests, there are no exceptions for extracurricular activities, such as sports or clubs.
"They need to make a decision whether they want to be part of that," said Plant Manager Dennis Weiland.
When students decide to accept an offer of employment at Regal Cutting Tools, everyone wins—except the football team, student council and other forsaken groups. That is because the company fulfills demand for workers and the students earn paychecks while learning on the job.
"We open their eyes to let them know what manufacturing can be and let them know it's a career choice," Weiland said.
"There's a lack of CNC machinists around here because the baby boomers are retiring and there aren't enough youths to fill these jobs," said Wes Weideman, manufacturing manager at Regal Cutting Tools, which has worked with Hononegah on its Workplace Readiness Program for 6 years and with Beloit for 4 years. The company donates equipment to both schools through its Tools for Schools initiative.
Regal Cutting Tools is one of many organizations associated with the programs. Beloit, which started its program several years ago, has 22 local businesses involved. They send representatives to monthly advisory committee meetings at the school.
"Now we need a whole conference room instead of a little office," Weideman said.
He said the advisers help focus the programs and students on what will prepare them for jobs, from math and computer skills to interviewing strategies. Coupled with the education gained in CNC classes, all the preparation makes students appealing to area manufacturers. All seven students, each a senior, who took the CNC level two class in the previous academic year at Beloit received job offers upon graduation.
"Every one of those graduating kids was hired full time at shops in the area," Weideman said. "The industries around here are all recruiting these kids."
This school year, 15 students are enrolled in the level two class.
He said those students also are being heavily recruited by nearby manufacturers—"us being one of them."
Regal Cutting Tools has hired more than 20 participating students from the schools, including several who have stayed at the company after graduating and are current employees.
Due to student demand, Beloit will begin a CNC level three class in January, with 15 students already registered. Weideman said school administrators and industry advisers are reaching out more to underclassmen to build a bigger pipeline of program participants and potential job applicants.
Weiland said in addition to building local brand awareness for Regal Cutting Tools and the other companies, as well as filling needed positions, the programs help change perceptions that many young people have about manufacturing.
"Manufacturing isn't a bad landing spot for students," he said. "Also, we get to have a voice in what we're looking for. So when we work with the programs at the schools, we can say what the industry needs and what the students need. It helps reinforce that."
—————————————————————–
Click Here for a free subscription to Cutting Tool Engineering magazine.
*This article is reprinted with permission from CUTTING TOOL ENGINEERING Magazine, and is protected under U.S. and international copyright laws. CUTTING TOOL ENGINEERING Magazine is protected under U.S. and international copyright laws. Before reproducing anything from this Web site, call the Copyright Clearance Center Inc. at (978) 750-8400.