Joined

Jul 12, 2005
Location
Here is a thread about my first class I taught to Practical Members. The 2nd was down in Dallas. Iam still teaching classes, but one of these days, students here in the states like Matt will be teaching. :-)
I wanted to share my experiences with PMers about attending a Richard King scraping class. Has anyone on the board taken Richard's class? For those of you who do not know who Rich is; he is a gentleman that teaches scraping, both hand and power. He has taught all around the world and is...
www.practicalmachinist.com
one of my highlights of my career was teaching a 16 year old PM member who waanted to rebuild his Dad's Machines. We did the class in Member Garwood s shop in Oregon. He and Matt is a wonderful member members who teach their crafts all the time. Hunter who I am not sure is still a member was scraping machines. Cash Masters donated a Bushe straight-edge he bought, ground and scraped, DAPRA gave him a BIAX scraper and 1/2 moon flaker, Glendo gave him a lapping machine. He got started on the right foot.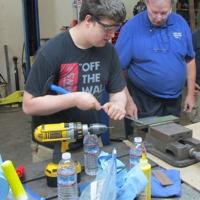 Richard King helps to keep things running around the world. Literally.
www.republicaneagle.com