Joined

Jan 2, 2013
Location
Figured I might as well start a thread to share some of my goofy ramblings, and the opening of the new shop. Ive just about got everything lined up. Its a small industrial suite. 1350sq-ft. 250amps of 3-phase. large door. small office. and really crappy concrete. Its in a good part of town to open a shop. But, it has terrible visibility. A sign would do me no good as its hiding quite well. Although access is easy. The rent is reasonable. Ive got the lease handled. The power turned on. The alarm service is all handled. And all my T's are crossed, and I's are dotted as far as legalities go. The first machine that I will own outright by myself will land next Wed. A low hour 05' HAAS VF-2ss. not the most glamorous machine. But I work primarily with aluminum, and it will suit me just fine. I have a TON of HAAS experience. I am well aware of their strengths and weaknesses. A Makino, or Okuma would have been great. But I have a small time budget.
And next Wed. B&A will be born! Truth be told, this is the second iteration of my company. But, this time its just me (and my wonderful wife Allison)! long story, you guys can probably figure it out on your own. MY money, MY shop! I plan to build a reputation based on excellent customer service, accompanied by quality work, and product. With speedy lead times. Its a leap of faith, and will be a ton of work. But I love what I do. And I am as dedicated as they come. wish me luck!
Now for the bad part. I will be keeping my "real" job. No way I can afford to quit. Not until we get B&A rolling. That may take a while. Its okay though. My "real" job only keeps me busy 30-40hrs a week. I am a workaholic. If I dont work 70-80hrs a week, I go a little stir-crazy LOL. And that explains the whole reason for this endeavor. I learned a long time ago the grass is almost never greener. I could bounce around to every shop in the valley. But its all the same grass with a different flavor. I feel its time to plant my own grass. when I took my current job, overtime was pretty much unlimited. That was the entire premise for taking it in the first place. Like I said, workaholic. And life was great. Now there is zero overtime. And nobody is pounding the pavement to bring in more work. So the way I see it, if I am going to be forced to hunt down work (which I have been doing for a while now), that work is MINE!
So hopefully next week I should have some pictures of the shop. And my new baby. I have some products of my own I hope to be able to sell. I am trying to figure out the most effective way to market them now. I know there is a market for the parts. I just need to figure out how to tap into it. And I will take on any and all work I can get. My overhead is pretty low (even though I am now totally broke!), and I can react pretty quick, so I feel I will be able to be very competitive in the semi-conductor market. As, those guys always need everything yesterday. That's my specialty. Aluminum, fast, and right. Just need to get my feet jammed in the proper doors. There is nobody holding me back this time!
here is the view out from about 4' in front of the back-wall: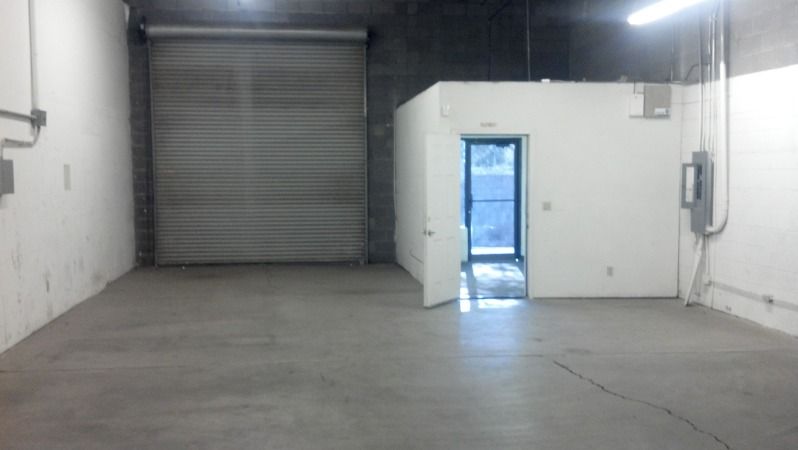 The mill will set directly in front of where I am standing. I already have some pallet racking built along the back-wall (that is why I was standing 4' in front of it). The restroom is to my right. Giant crack in the concrete. and the floor is heaved pretty good. about 1" at the crack. I originally wanted the mill on the other side, but I just don't trust that concrete. I am the end suite. And 10' on the other side of that wall is a large water retention area. and the transformer, and service that feeds the whole building. 14 suites. I have the most power. everybody else has 150-200amps.
And here is the mill: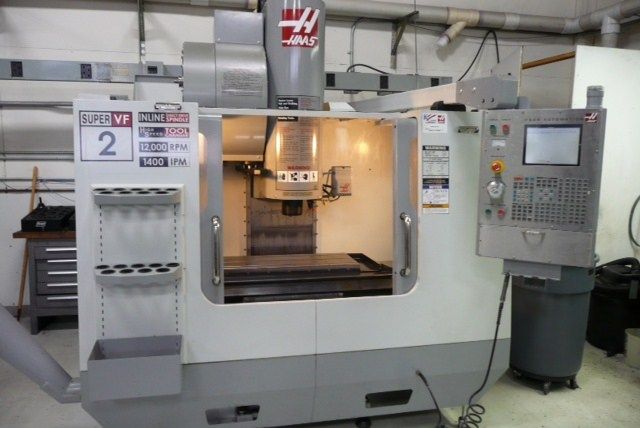 I am pretty excited.