I have two Monarch lathes.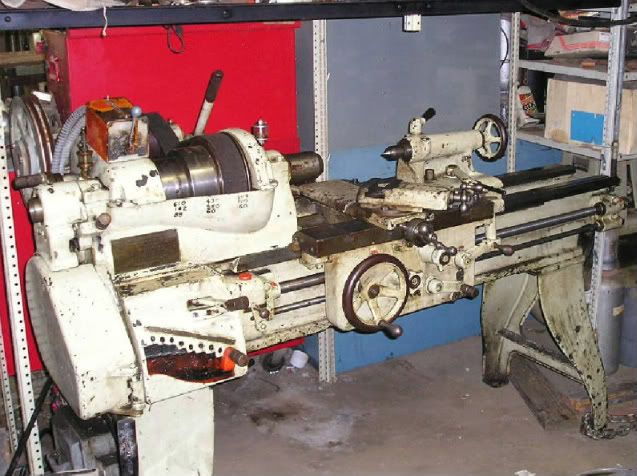 The cream colored lathe I got about 4 years ago and the consensus was that it is a model A, but I have come to question this. The gray lathe I got about a year ago and according to all of the information, drawings etc that I have collected, I am certain it is a model A. Both lathes are 14.5x34, plain bearing cone heads obviously of similar design and built by Monarch. But that is were most of the similarities end.
On the cream lathe, as compared to the gray lathe, every knob, lever, and hand wheel is bigger and much better finished with knurling etc. The bed is wider, deeper and much heavier with added bracing. The carriage is also larger and heavier with a large apron that is of a completely different control layout and design. The carriage rides on an inverted v and a flat as apposed to the grays double inverted v. The spindle thrust is carried by a ball thrust bearing as apposed to a washer and the cream lathe has a larger spindle bore. The cream lathe uses bronze bushings while the gray uses a lot of CI to steel fits. The cream lathe has a quick-change lever between the lead screw and the carriage drive. The cream one uses tapered gibs and has a factory installed taper attachment, properly doweled in place, and is complete with a telescoping cross feed screw. I wouldn't be surprised to find that the cream lathe weighs a good 300lbs more. The fit and finish of the cream lathe is excellent while the grays are serviceable. Many of the main components are not interchangeable between the two lathes.
Well you get the idea. It is as if they were made by different companies. It seems that the gray one was designed and built to be serviceable but at the lowest possible cost, probably before or during WW1. In contrast the cream lathe is of very high quality and has every conceivable improvement, apparently without consideration of the cost. We joke that it must be the government model. I have not found another like it or any reference materials about it.
It would seem that I have examples of a shift in Monarchs marketing strategy from offering the best value on a good serviceable lathe, to offering the best lathe period.
So, what do you think the cream color lathe is? Do you think that Monarch would make such drastic changes and still call it a model A?
I would be curious to know how the lathes of the other A owners compare. Any and all information, comments, and opinions would be appreciated.
Yes, the joy and the frustration of preserving old iron.
Thank You, Mike