Joined

Dec 11, 2007
Location
Good Morning All,
I'm starting this thread to document my efforts to put some life back into this poor old Hendey.
First a brief history: Thanks to Hendeyman, I found out this old lathe started life in 1915 at Bethlehem Steel, PA. After working at the steel mill, who knows, but somehow it ended up in a home shop in GA. The fellow who owned it decided it was no longer useful to him (he had a cobbled up toolrest for woodturning, go figure) and put it up on the 'bay which is where my brother (Blackboat) found it cheaper than dirt. This is when the machine was first introduced on PM.
http://www.practicalmachinist.com/vb/showthread.php?t=112764&highlight=hendey
Well, Blackboat decided it was a worthy project and dismantled the beast to begin it's restoration
http://www.practicalmachinist.com/vb/showthread.php?t=114798&highlight=hendey
. The restoration was moving along nicely, that is until… Miss Monarch moved in
! What's a guy to do? Hendey got shoved out the door and became a blue-tarp driveway orphan.
That's how I ended up with the lathe. I posted about its trip from GA to TN back in June
http://www.practicalmachinist.com/vb/showthread.php?t=160010&highlight=hendey
. I had several time sensitive woodworking projects to finish so the pile of Hendey parts was stuffed in a dark corner to contemplate its fate
. Well, now I've decided to start a new post as it's been a seven months since I retrieved the lathe, and also because I'm at the point of asking a lot of "where does this thing go?" type questions. I hope that's ok with Mr. Oder.
So, where does it stand now? So far, I've mostly been doing "bodywork". After sitting outdoors for several months before I could make the trip to pick it up, the moisture began to work on the black filler and started lifting the bondo and paint that Blackboat had applied to the base and bed. I decided to strip everything back off. The original black filler that remained had become punky and I didn't think it would make a good base for the new paint so I poured on some citris strip and worked over the raw castings of the legs, drip tray, and bed with a needle scaler and cup brushes. I replaced the old filler with polyester glazing compound (kinda like bondo-lite). I also cleaned up the rust that was over all the milled surfaces with phosphoric acid.
Here is the bed, all bondo'd up and ready for primer: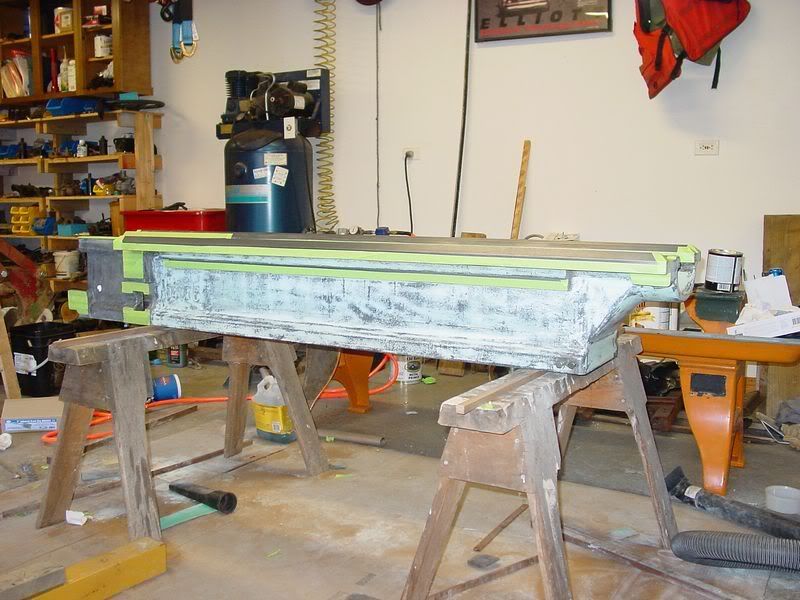 Starting to fill the drip pan: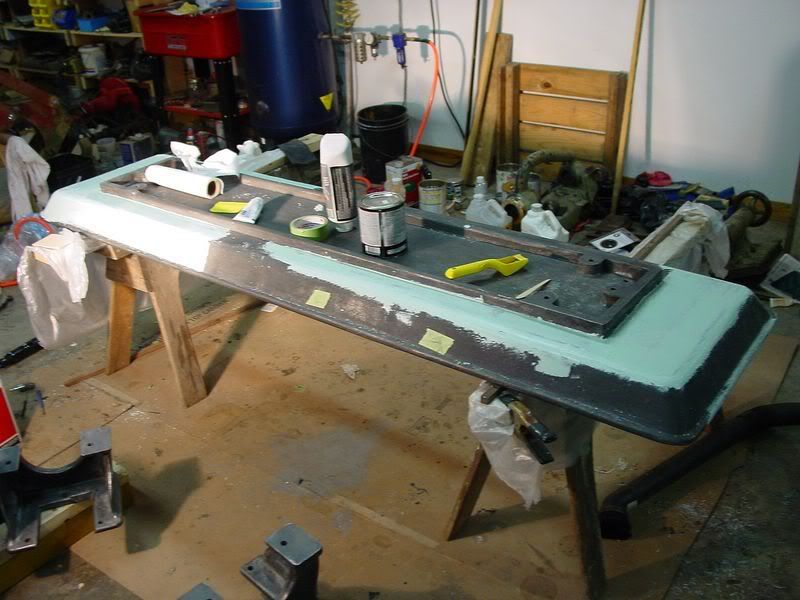 Pan and Legs ready for primer and paint: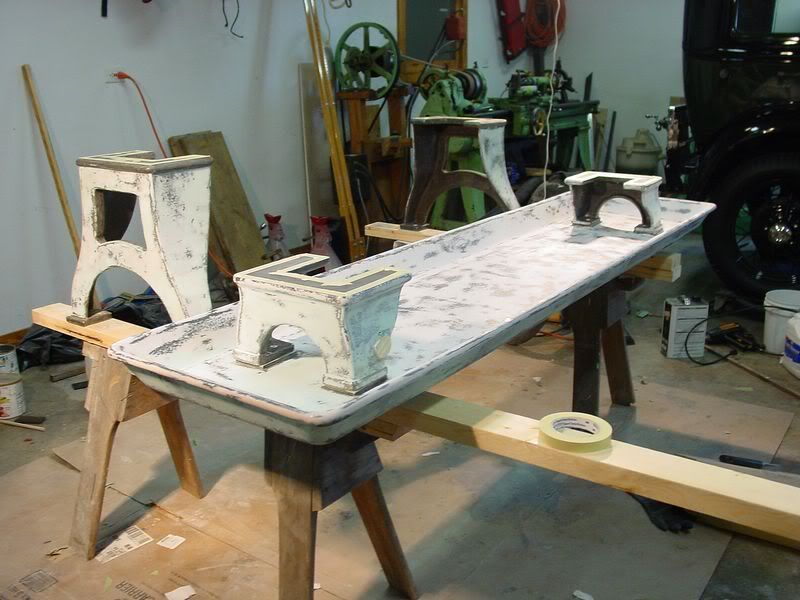 After reading all the Hendey posts in the archives, it appears that like there was no "standard" color for Hendeys back in the day. They were apparently painted to order or with whatever color they happened to have a lot of in stock at the time. I decided to do a 'paint to order' job. I chose Rock Moss Green from an old Ditzler Model A Ford color chip book and mixed up my own version with synthetic enamel paints from Tractor Supply. I also decided to brush it on and not spray since the weather's cold and it's a lot of trouble to convert a third my shop into a spray booth. Brushing lends itself to doing a few parts at a time and I need a lot of time since I have to paint a few parts and assemble things 'jigsaw puzzle' fashion from the pile of somewhat random parts littering my shop before I move on to the next assembly Here are the results of my slathering efforts:
Legs and drip pan done: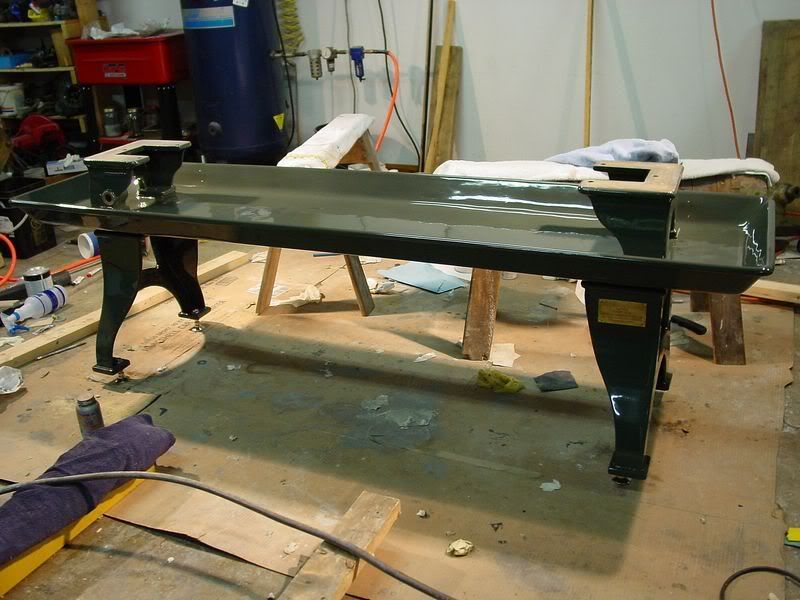 Front view of bed and base painted: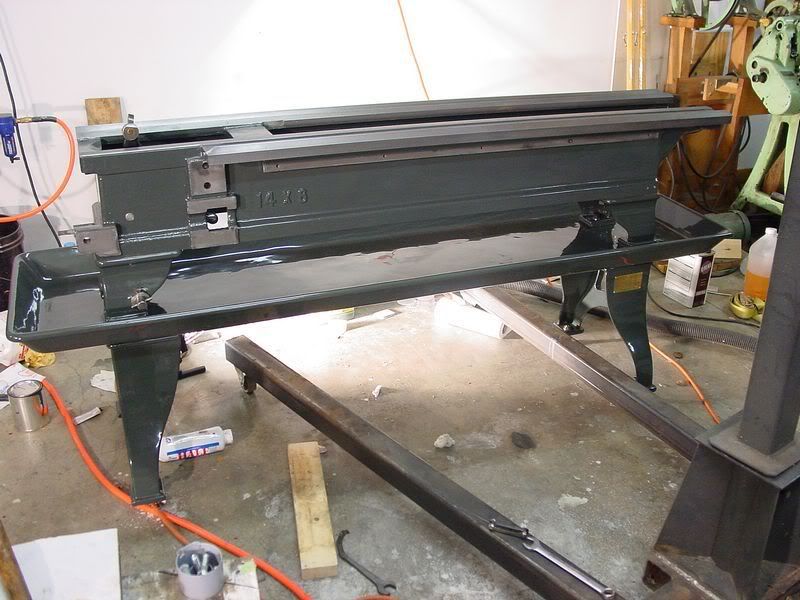 Back side of bed and base:
Below is a picture of the original dealer placard on the front of the lower right leg. I removed the placard before stripping and painting and had to make some new brass escutcheon pins using a form tool since I destroyed the old ones taking it off.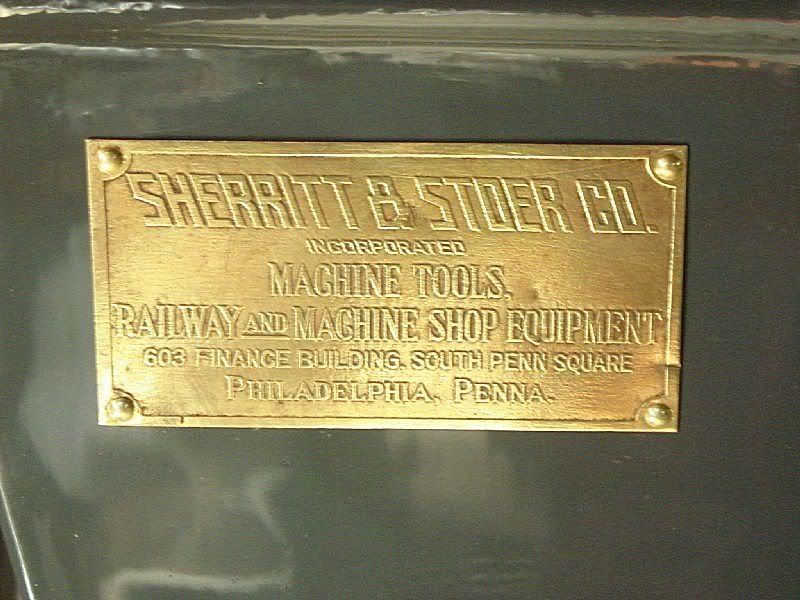 That's all for now. Next stop; the headstock.
Patrick Black