Joined

Feb 21, 2022
Location
I making this thread so that I can keep tangential discussion about the CNC I am building out of more specific threads where I'm asking for targeted help (and am trying to keep everyone from getting side tracked.) If this is the wrong place to put it, let me know and I will recreate this in the proper location.
Just up front, as mentioned at the top, this is for a home in the heart of Tokyo Japan and so has a lot of constraints that you are likely to be unfamiliar with, try not to make assumptions as to why I'm not doing the 'obvious' as it likely isn't something as easily done over here. To compound that, I've also chosen to try and use as much domestically sourced parts as possible out of a sense of local pride. Much of the major components have already been obtained, and while they may not be ideal, they are limitations that help focus me on making the thing rather than parts shopping.
So with that hopefully non-hostile disclaimer in place, let me lay out the goal and the basics.
I'm an Engineer living in Japan for about 15 years now, and want to build a CNC that will be able to operate in my residence for non-commercial use, but that could potentially boot strap a more serious endeavor in some form of artisan manufacturing. I do not have anything specific, but I want to be able to easily machine complex metal parts, hopefully including steel. Yes, I know that's a high hope for a homebuilt, and yes I know this design will have challenges, but this is the basic goal, let's see how close I can get.
Some straight up facts that may surprise you:
The largest
residential
electrical service available is a 200v 60A drop. Yes, I mean 200 (split phase 100v) not 220 or 240v, and yes only 60A for the whole house, there is a software controlled breaker at the meter that will disrupt you if you pull more.
We do not have any kind of garage or basement. This is because there is strict zoning laws in most of Japan and they impose a land utilization percentage. As a common example, a residential area may have a 60/120% limit, so if you have 100 meters of land, you can only cover 60% (60 meters) with building and that building can only have a maximum of 120% (120 meters) of internal floor space. Garages and basements directly apply to that formula, so unless you are insanely wealthy you are never going to trade off living space for an enclosure for your car. In my neighborhood a tiny single car garage would add close to a half million dollars to the price of the property.
Japan is not set up for dabblers. Things that are specialized are for specialists, Japanese stick to their lane, there is not the sort of DIY or home hobbiest communities that can support large scale secondary markets over here. Combined with an ethos of paying the price to do business, it means there are few ways for normal consumers to even buy specialized equipment or parts, and if they do they should expect to pay shockingly high prices. This applies to some of the most simple things, like basic power tools. The market is small, choice is limited, prices are very high and importation is difficult and costly. This is not the US, it doesn't work anything like the same way here.
Lastly some good news, and a most surprising fact, my wife is a patient soul who supports my eccentric ways, and mostly is tolerant of sharing our house with this monster (with the implicit assumption I keep it in my workspace and from crapping metal shavings all over the house.) As a doctor she works almost constantly, and gives me a lot of rein over my reign.
So now that we have some of the shape of the environment, lets see what we actually have on hand.
This is a fairly recent shot of the design, it's name is Kaiju.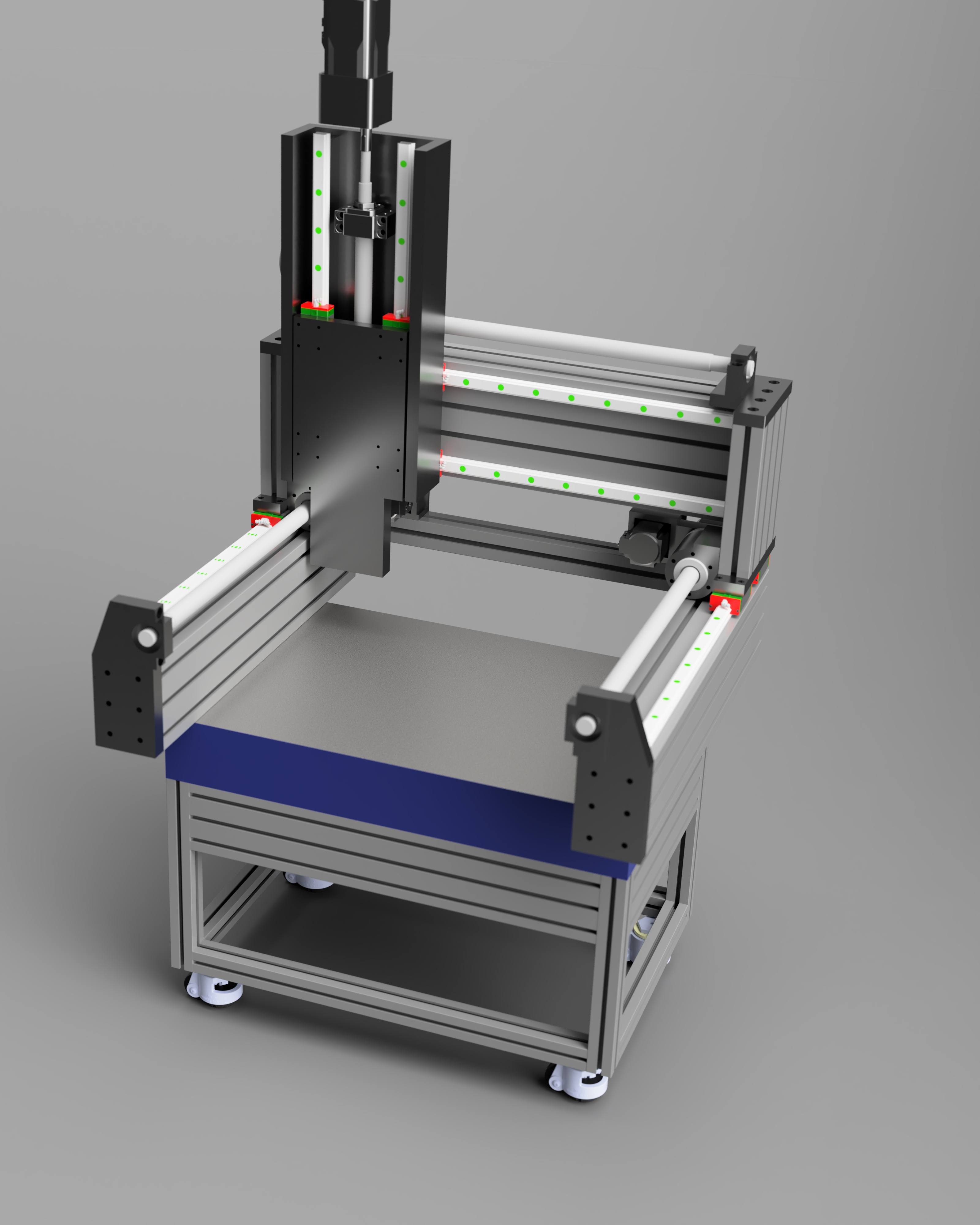 As you can see, it is a gantry type design, using Aluminum extrusions, but before you go on a rant, these are
very large
and specialized beams, not typical of what is used outside of Japan. I'm not saying that they will allow me to cut steel, just that you should hold on to you comments until all the facts are known. Thanks.
The base is an old 750mm x 500mm cast iron surface plate (sorry guys, we are metric over here and I've bought into it. Units of science.)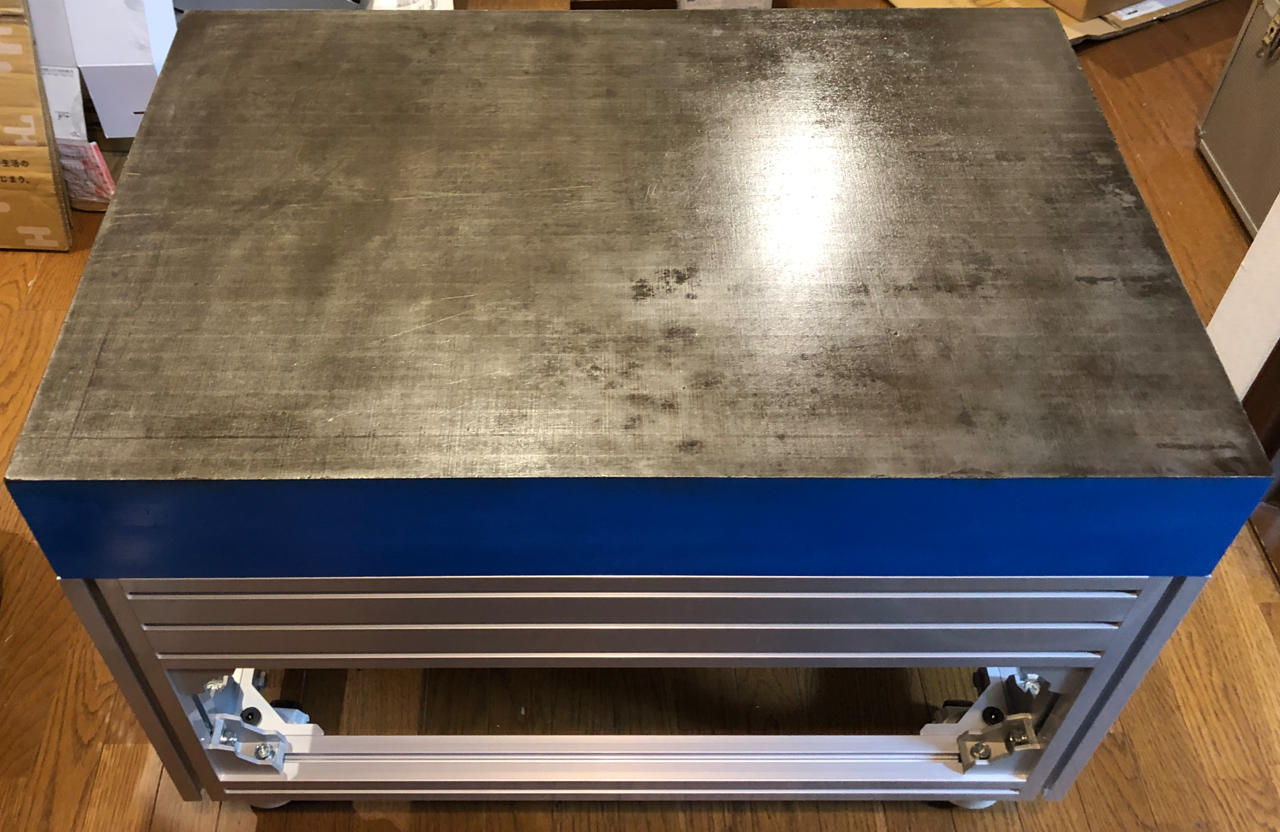 All rails are genuine Hiwin heavy duty 25mm units. All ball screws are 28mm NSK ground units and bearing blocks. The motors and drivers are
Oriental Motors
Alpha series closed-loop steppers, and the spindle is a massive 30kg 1.5kw 3-phase beast made by a Japanese specialty company. I will detail these components below over time, but I've given you guys enough to chew on. Fingers crossed this won't be a pile on...