Joined

Feb 7, 2002
Location
Often times, it seems that circumstance and dumb luck are better than conscientious planning and diligence!
In past posts, I've mentioned that I'm gathering a collection of machine tools for my retirement and as support for my main hobby which is restoring antique farm tractors. Towards that end, I've ended up with several lathes and other tools. The current flagship of my small fleet is a No. 1 x 30 (12" x 30" btc) Hendey General Purpose lathe. Although never coming even close to reaching the capacity of this 12" x 30" lathe, I've watched with envy those on this board that have found and saved bigger machines (Southern Belle for example). So I have usually kept watch on eBay postings and local ads waiting for something to "save".
A couple of months ago, an eBay posting showed up for a "LeBlond lathe" about 25 miles from home. Very little info was provided, photos were fuzzy and the opening price was too high, but just for fun I sent off a couple of questions to the seller. Seller responded with some info and invited me to come see the lathe, but since the price was too high I let the matter drop and watched the eBay posting expire with no bids.
A week or so goes by and the seller sends me another email … he really wants to sell this lathe and again encourages me to come take a look and offers a lower price. It's still too expensive, but I figure, WTH, so I take a long lunch hour on a Thursday and go take a look. Turns out the lathe is part of the assets of a shop being liquidated for legal reasons. The guy I have been emailing was from an out-of-state liquidation company and was responsible for getting the shop totally cleaned out by Friday (the next day). Most items were gone and the remaining cabinets, material, etc. was being thrown into a scrap dumpster. The guy hated to see the lathe get scraped but his efforts to sell it had so far failed and the next stop was the dumpster.
Turns out the lathe is a 17" x 8' bed LeBlond Regal (slightly over 19" actual swing and about 56" btc) in what appears to be really nice condition with some extras. Taper attachment, steady rest, micrometer stop, Aloris tool post, 3-jaw chuck, spindle clutch and a 5 drawer tool cabinet full of stuff. Ways look good and carriage feeds are snug. Only items of note are a broken half-nut handle and a missing taper attachment bed clamp.
He gives me another price (again lower than before), I yield to temptation and counter, and we split the difference at $900.
Next morning with rented trailer in tow, they load the lathe and it's off to my storage barn. Following are a couple of photos as it is being unloaded for storage.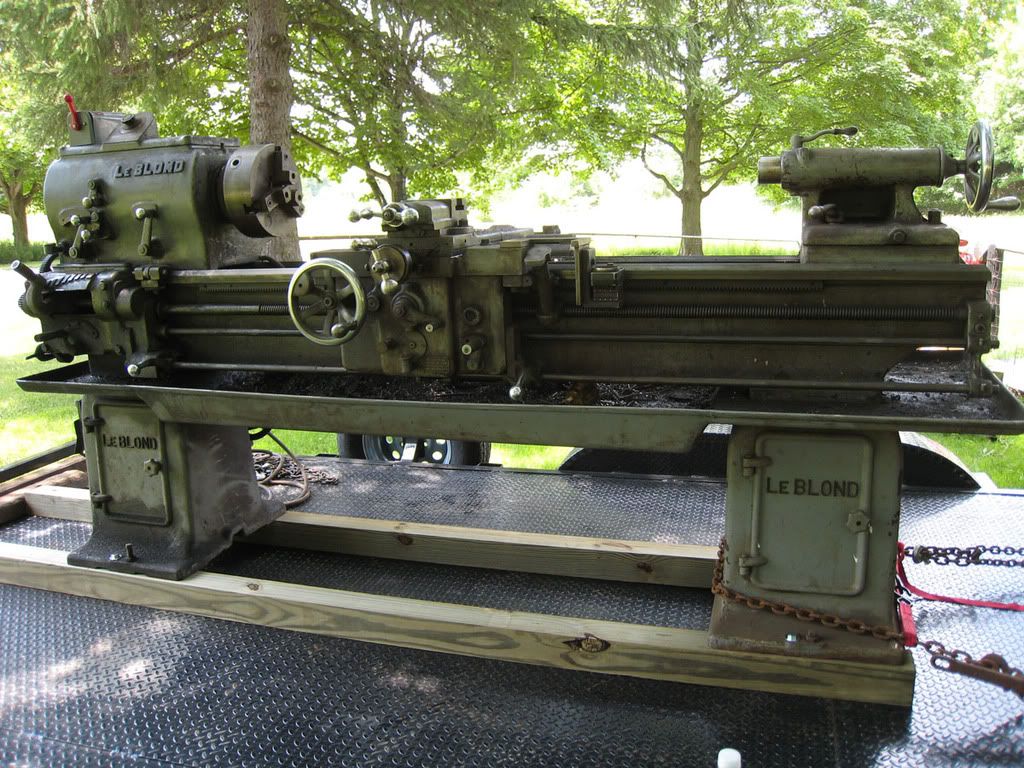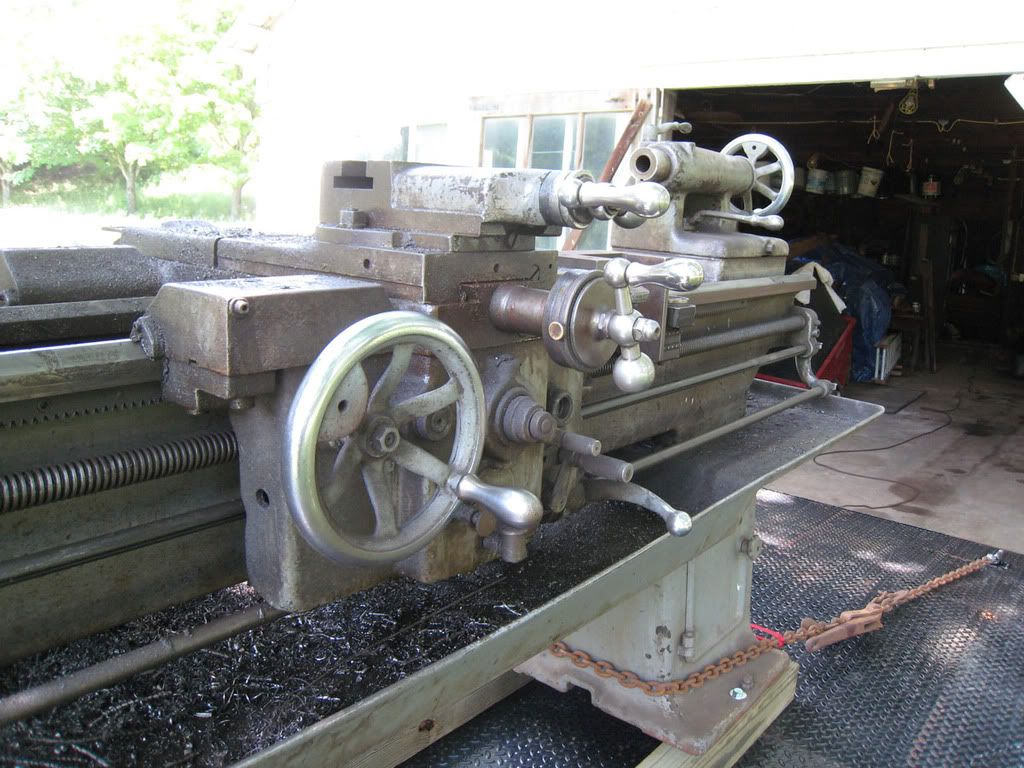 Now for my question ….
According to LeBlond, this lathe was built in Oct. 1948 and has a 2-7/8" x 5 tpi spindle mount. In Nov. 1948 LeBlond changed this lathe spindle design to the L-0 style mount. My Hendey is equipped with an L-0 mount and is well equipped with chucks, faceplates, collet chuck, etc. Does anyone know if an L-0 LeBlond spindle would be a direct fit/replacement for the existing threaded spindle?