Joined

Mar 3, 2005
Location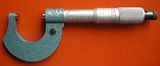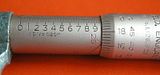 Not an antique, but unfortunately
GKN Shardlow Metrology
are history.
This is a dual inch/metric micrometer.
The pitch is 1/50" instead of the normal 1/40" for an imperial mic. This pitch allows the
inch
axis to be horizontal, while the
millimetre
scale has to be helical.
Reading it takes some getting used to, but then I never feel at home with a metric mic anyway.
There's a slight compromise involved in using the mic with either system.
Inch Scale
: Horizontal line divisions are 0.020". On the thimble the numbers (0, 2, 4 etc) are thous. The small divisions are 0.0004" which seems odd, but then this helps with the metric scale. This isn't really a problem, it just seems strange that odd whole numbers of thous don't have their own line
Metric scale
: Easy to read to nearest 0.01 mm. Interpolation is trickier because of the angle of the line, but then it's not designed to resolve beyond 0.01 mm.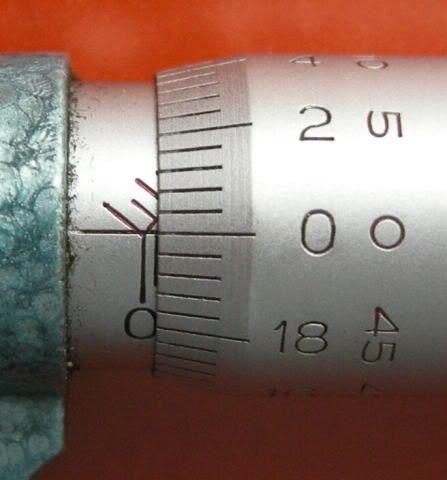 Example of a reading: 0.02". Millimetre (red scale) subdivisions are 0.5 mm (note that metric numbers on thimble are also red, but may not show up here). Hence metric reading here is just under 0.51 mm (actual figure is 0.507).
Another example: Measuring 0.5" slip gauge.
The locking mechanism is unusual. Press the button gently in to lock, press it out (from the other side) to release. Seems very effective.
Here's an abstract of the 1966 GB patent (Arthur Harold Mills). An alternative arrangement shown in the abstract has two helical scales and just one set of graduations on the thimble.
espacenet - Bibliographic data
The only other micrometer I recall seeing with an inclined scale is one of Rivett's very old ones:-
http://www.practicalmachinist.com/v...nglish-micrometer-thread-compensation-220163/