Hi folks. I'm having some issues with the T-Drill unit in my machine.
1. It's feeding on the return instead of making a rapid move. Is this some kind of parameter that controls it or is it a programming error on my part?
2. It wants to rapid only 0.2 mm from the face of the part. That's a bit too close for my liking. I assume there's a parameter for this as well but I can't find it in the manual.
3. Can I make it feed at 50% for the first 2mm? Right now it goes 100% all the way.
here's the program:

And here's the tool data: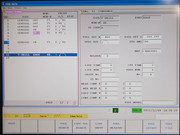 Thanks!