Joined

Apr 12, 2005
Location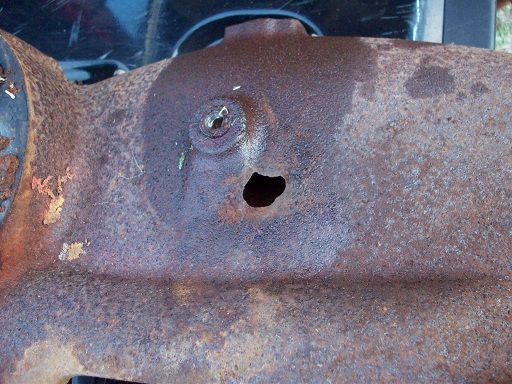 What you see here is the underside of the coolant reservoir off of a '48 Farmall Cub. Rust has taken it's toll and left a hole that's about 3/4" across at any widest point. I need to get this hole repaired. But what type of repair?
Piece is cast iron. Weighs about 40-45 lbs. Radiator cap says it will blow at 7 lbs, so not a lot of pressure in the system. Access on the reverse side is limited by a sleeve in the casting for the (hand) cranking arm. Material around the hole feels solid, but obviously getting thin next to the hole.
Initial thought was to drill the hole out round ( to say 3/4" dia ), and then slip in a 1/2" NPT black iron or brass plug or bushing. Then braze the plug/bushing to the housing. But I've also entertained ideas of a plate to cover the hole. I've considered brazing vs. welding. Heard talk of making a "cover" using fender washers and thick rubber washers squeezed together with a bolt through the hole. Thought about just drilling out and putting in a freeze plug, but probably not enough wall thickness. Some have mentioned that maybe even just a plate with silicone or RTV sealant would work.
Piece is kind of rounded on this bottom side. There's a little ridge going to the petcock drain. And access from the bottom is somewhat limited, but manageable.
What's your ideas? Please don't say buy another. This is the original piece to the closest thing my family has to an heirloom. And I don't care too much about cosmetics either.