Joined

Aug 19, 2004
Location
I submitted the above photograph (or one quite like it, of the same building from a different angle) from about 1920, I think, in another discussion recently and stated that the building was still in existence as of 2012 and another correspondent searched maps and found the building, in Philadelphia, still standing and asked
Have you seen that building lately?... google shows the walls covered with some green plant of sort...Is it a condo conversion or will it be?
I reply as follows to this inquiry.
Out of town for a day so will reply now. Yes, I have an aged uncle still practicing as an architect with an office in and managing that late 19th century building, which I was first in that I recall in the early 1960's. The brief story is this: my father, who was the eldest child of Russian Jewish immigrant parents, was university trained (at the University of Pennsylvania, in Philadelphia, where I also attended--there is an engineering scholarship in his name there, endowed by my mother--still alive) as a mechanical engineer. None of his family had at that point had as much as a high school education, when he graduated in 1937. He practiced engineering after graduation and through the war, but, with the guidance of my grandfather, who had already at that time long been in the real estate business, had already bought one small investment property, a row house I believe. Not long after the war, and before I was born (1949) he went into that Philadelphia real estate business with my grandfather, managing, brokering, investing and finding investors (sometimes all four services on the same property). They were prosperous, though not hugely successful as Philadelphia's real estate was in decline then and did not really pick up until just before the time of my father's death, in 1994.
In 1952, my father was looking for real estate opportunities and approached the aged owner of the S. J. Creswell Iron Works, a business begun in Philadelphia in 1835, Maurice Biddle, whose business was slow after the boom for the war, and whose foundry building had had a pretty bad 1950 or 1951 fire. My father, born in Philadelphia's South Philadelphia Jewish section in 1916, (so he was about 35 years old at the time) as he told the story, asked Biddle (who must have been in his eighties and still running the business, which had certainly prospered and been a busy concern in the just ended war years) if he would sell the building the building which had had the recent fire (which, I believe, was not the building pictured above but the one slightly larger in square footage, on the other side of the street). I suspect my father thought of the possible deal as an investment. That is, he could partly own the building and rent out space until he could find a larger investor who would want the property for redevelopment and tear it down. He told me once that he, at first, thought this process might take five years or so. In this he was quite wrong.
'Old man Biddle' (as my father spoke of him to me) had had a partial ownership of the business since the 1890's and had superintended it since then, and had had full ownership since about World War I. He was, no doubt, a cagey old fellow and was certainly looking to maximize his investment and realized that he could propose selling not the one building to my father but the business and all the buildings. This is what happened in 1951 and 1952. One interesting document of this transaction is the October, 1951 appraisal of the buildings and machinery therein, which carefully noted that it did not include the values of the patterns. I suppose that the appraisal firm did not think that this was their area of competence. I have this fairly lengthy, fairly detailed (sometimes inaccurate, I know) appraisal still.
Maurice Biddle was, said my father, not a close family member of the famous and very wealthy Philadelphia Biddle family but a more distant relative.
My father convinced wealthier Philadelphia area businessmen investors--just one family, like his own interest, a two generation family of Jewish needle trade operators--to supply most of the funds needed to buy the business from Biddle, and he and his father took a minority interest. He found--from the ranks of University of Pennsylvania engineering graduates--new management. This partnership ran the corporation (the Iron Works, originally of course a sole proprietorship, had incorporated about 1890--when most of the buildings which I knew from the early 1960's on were erected) from 1952 until its demise in 1985. There was a company officer's meeting every Friday for lunch for a good portion of that time, I often attended. Lunch was delicatessen sandwiches, always with nice pickles, the business paid.
Both my younger brother (also a Penn graduate, which I was not, and now a practicing Boston architect) worked at the Iron Works as teenagers during the summers. I think my two summers there might have been 1963 and 1964, maybe 1964 and 1965. I loved the place and loved the work. The work at that time was still a large amount of handling of castings, and fitting of them--these were done elsewhere, first in Carolina and then in India, but that was after my time--but perhaps two thirds or more of the work was steel, and this consisted of middle sized jobs of structural steel, 'miscellaneous iron work,' I think, was the building trades turn. They also accepted smaller jobs, sold structural steel, and manufactured for a time a patented (their patent, it was in their name) prefabricated steel stairway system. I think about 35 people were working there when I was there. I suspect that there were more than a hundred during its best years, such as World war II. In my case the work was mostly building and machine maintenance (my brother welded prefabbed steel stairs).
In 1969 the owners, including my father, determined both that the real estate had increased in value enough and that their need for cash indicated that they ought to make good their original intention , of selling the property. Headed in this direction they bought another Philadelphia property, thought to be much cheaper, I suppose, a very large stone cutting shed, on dead end Comly Street, near Roosevelt Boulevard in northwest Philadelphia, and the Iron Works--which had successively moved west in central Philadelphia from 1835 'til the 1890's, moved itself again. I believe they rigged everything. I know, for example, they took their own bridge crane (20 ton I think) to the new site as they felt that the existing crane (50 tons, I think) would cost too much to run. (They just parked the larger crane at the shed's end. I was used to their 20 ton Cleveland--I think--crane, and the big yellow P & H crane seemed a monster next to it.) They engaged my father's little brother--the architect now managing and having his office in the Iron Works property shown in the photograph--to design a large office addition. This still stands.
The Iron Works continued in business in the new location, with a decreasing work force, until its end in 1985, completing 150 years of iron business in Philadelphia. In the mid-1970's my father rec'd permission to give me as much of the then remaining pattern shop machinery and equipment and supplies as I wished (and this was a lot, though I had to move it to Vermont for my hobby). In 1985 the same firm that conducted the 1951 appraisal was engaged to conduct an equipment appraisal for the orderly dispersion of that stuff and they did. I have a copy of this document also. At that time I bought another few tons of machinery and supplies, all metal working machinery (as opposed to the earlier gift of pattern shop wood working machinery) and brought that up to my home in Vermont too. I also managed to salvage some early 20th and late 19th century catalogs of the firm.
The location of the building shown in the antique photograph above is on the southeast corner of 23rd and Cherry Streets in Philadelphia. The larger building, which included the foundry, the grinding room, the casting shed, the erection shop, the offices, the drafting room and the pattern shop and which stood across Cherry Street on the northeast corner of 23rd and Cherry, has been torn down, at a date unknown to me, sometime in the mid 1980's, I think. I was certainly sorry to see it go. But the businessmen who bought it in 1952 had always had this plan, though they were not fast to work it and certainly were interested in running the iron works as a business itself, though they hadn't originally planned to. When the fine 18th century building was torn down the site suffered the indignity of making money as a parking lot for a number of years. I can no longer remember whether it was the Iron Works ownership, or an offshoot of this, that started this, and perhaps sold the rights to the site, or whether the property was sold from that ownership first. I think the former, though I believe they engaged a business partner to run the parking lot (which, as these things do, made a lot of money). Earlier that building had been rented out. I easily recall a mid 1970's aftermarket truck bed manufacturer who used it as storage as he had parked it full--I mean tightly full so that one had to squeeze in--of new cab and chassis (GMC, I think) that he was making flat beds for, as that was the time I wanted the fairly large wood working machinery from the second floor pattern shop and we had--partly because of these chassis--to get a crane to rig them out an exterior wall (where the second floor bridge over Cherry Street whose other end is partly seen in the photograph above, had earlier existed).
Now, this portion of the site the, the northeast corner of 23rd and Cherry is condominium apartments, condos. I think my uncle had a small ownership portion of this for a time, before the condos were built and sold.
The building shown above, on the southeast corner, is now owned by my father's little sister (now 90) and brother (about 84 or 85, I think) who each have a one-third share and by my brother and my sister and me, who each have a one-third share of my father's share (which had been mother's who had grown tired of being in business with her relatives and so gave it to us). As you can see the three of us each own a ninth. The property, under my uncle's management brings in a positive cash flow and provides some small distribution to each partner each year, over sixty years after it was first purchased under my father's direction. However no one--with the exception of me--has much interest in it as an historical or family item, the property value has decreased from its high before the real estate tumble of 2008, and the rents are low and the building is deteriorating, of course. When I recently asked my uncle what we should do if he could no longer manage it--and no one else has stepped up for this (only one family member of the six of my generation, a physician, lives in Philadelphia, the rest are scattered from Vermont to California)--he said, roughly, though that isn't really his manner, and affably, 'Sell the fucker!' We both laughed, of course. Not the best way to do business.
At one point as a teenager I was engaged by the Iron Works to paint all the wooden sash in the northerly larger building and all the drive in doors a nice black color that looked well with the unpainted red brick. Sometime after that my father had all the buildings painted an attractive gray color and the remaining building is this handsome dark gray now. But, beginning in the 1960's my father himself planted cuttings of English ivy around at least this remaining building and perhaps the others. He seemed to have a little hobby of this, as he did it around our suburban house also. In both cases, after a slow start in which he had to encourage a lot, it grew far too extensively. It can't be helping the 19th century brick on Cherry Street and it certainly wasn't helping--though it did away with lawn mowing of grass, which was a plus-- the woodland trees on which it was climbing at my Penn Valley childhood home, and which we--he and I--tried to strip for a good many years, not succeeding.
I don't know exactly why my family history of involvement (and my involvement) in this 19th century established business has meant so much to me, now for nearly fifty years or so. To me, at this point, understanding this, or even just thinking about this, is the most important point. Though, if I could exercise some magic of the commonly desired though never achieved sort I would go back in time with the knowledge I have now and, first, from the start I would document the history of that place and, second, I would be a better son and worker and stay in Philadelphia and work at that iron works rather than migrating away to the isolated valley of Vermont that I liked so well (partly because it exemplified so many of the 19th century values and ways and accommodations to the late 20th century that the Creswell Iron Works also did) as I did.
To complete for now this little exercise of memory here is another of the historical photographs of the buildings, of the shop on the northeast corner matching the one shown above: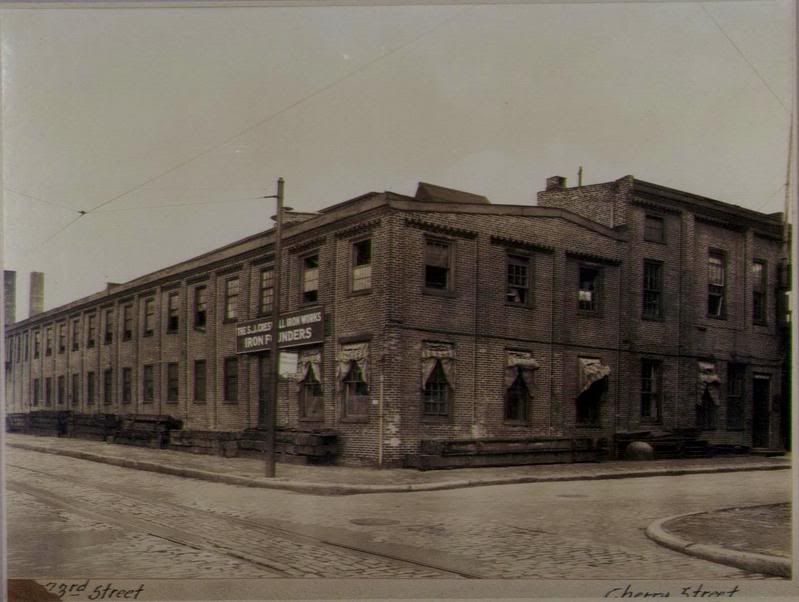 Here is an early one showing some of the company staff in the 1800's (and showing an iron pilaster cap which is an example of the architectural iron molding they were doing as some of their business in those days (and earlier and later):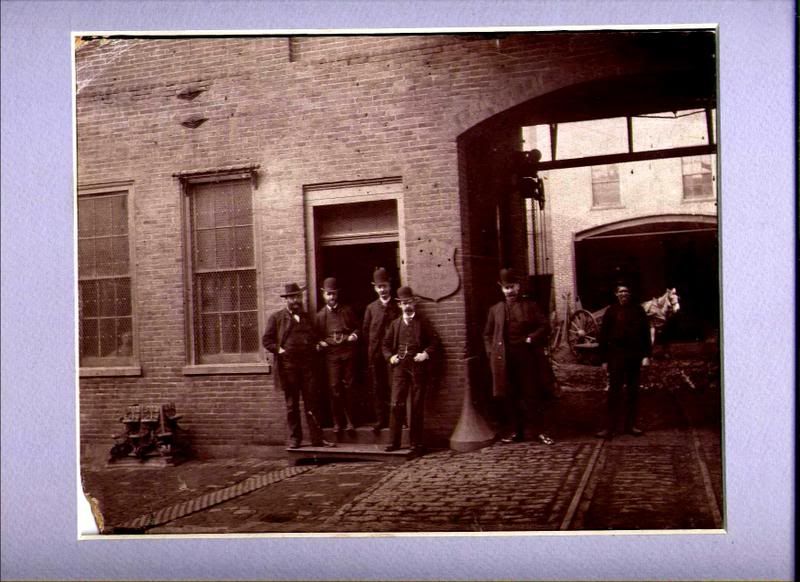 And here is a photograph of me with an exterior jib crane in the back of the remaining building (on what is known as Filson Street) taken in the rain just a few years ago: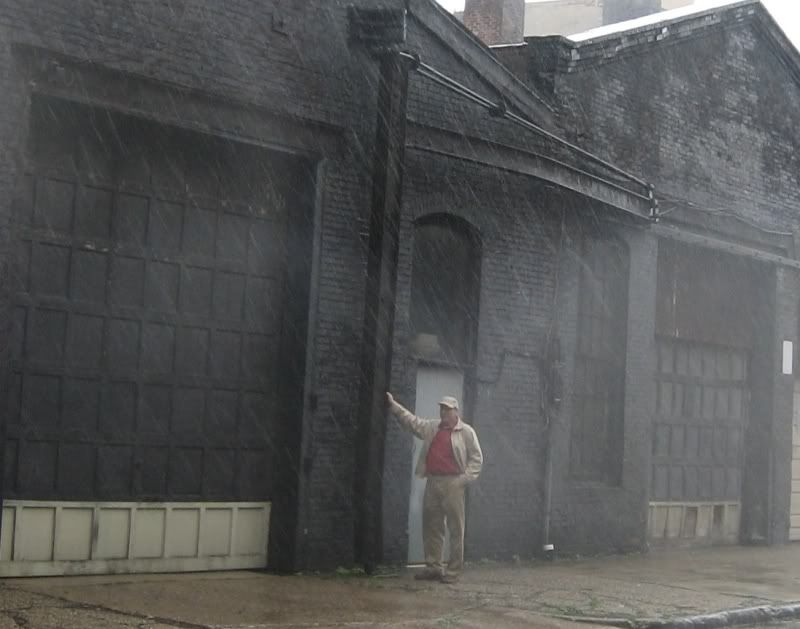 I think all four of these photographs have appeared on this site before and I hope you'll excuse me for repeating myself as this current discussion does add a bit to the picture.