Joined

Apr 21, 2006
Location
G'day all
I've been lurking for a while but this is my first post. It's a great forum.
I've been lucky enough to inherit a Schaublin 120 VM. It's had a bit of a hard life - it fell on its face about 15 years ago and since that time it has been sitting around in pieces. I'm gradually getting everything together, and in the process stripping it all back to bare metal & repainting. Slow task but lots of fun.
There's some obvious damage resulting from the fall - the carriage speed control on the top LH side is busted off, and there are a couple of marks on the castings. The drop also looks to have sheared off the bolts attaching the lathe to the base. From the measurements I've done so far, the lathe isn't bent like a bannana, but I may not be out of the woods there yet.
It's likely that the cross slide got whacked when the lathe fell. The evidence for this is that the cross slide handwheel, plus some of the bits attached to this are missing. However, I'm encouraged by the fact that the casting immediately behind the cross slide handwheel appears straight & undamaged. I'm lucky enough to have some of the Schaublin assembly drawings for the saddle and apron, so I've got almost enough information to reverse engineer these bits. However, I would love a couple of close-up photos of the cross slide handwheel assembly, particularly showing how the graduations are marked around the perimeter of the handwheel. The parts of interest are indicated in the Schaublin assembly drawing below: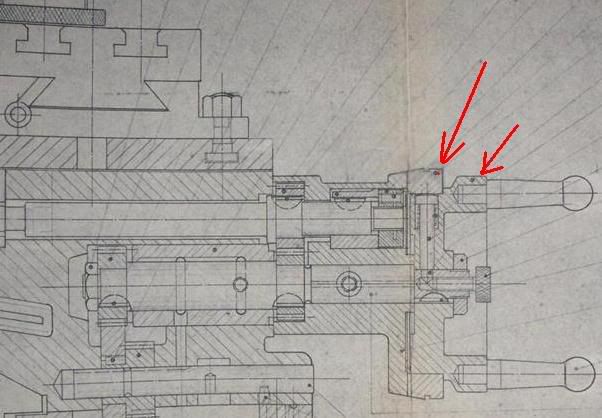 Is the handwheel assembly plated, or bare steel?
I'd also like to know what the original colour scheme was for the electrical panel on the front R/H corner of the base. Were any of the details hilighted in a paint colour different to the colour of the rest of the lathe?
Finally, I'm interested in whether the "Schaublin 120-VM" lettering on the hinging panel on the L/H side of the lathe was originally hilighted, and if so in what colour: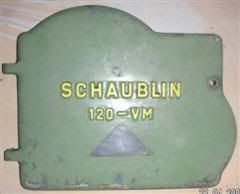 Hopefully there's some 120 VM owners out there that can help. Thanks in advance, hope to have some piccies of the completed lathe on the forum in the next month or two.
Steve