Joined

Feb 19, 2002
Location
I finally got started on the step collet chuck for my 10ee. Ordered Dura-bar for the stock material, I though of making patterns but since it's a one-off it didn't see to be worthwhile. I might have saved something on the cast iron but lost it on the time taken to make the patterns; besides, Dura-bar is sorta fun to machine, like hard butter.
Started with a chunk 3.75" dia by 3" long, faced and cleaned up one end then chucked that up. Setup the compound for the taper by indicating on the spindle face. Remounted work, faced and cleaned up the other end, then drilled through and bored to about 1.200. Bored the start of the recess for the D1-3 spindle face 1/2" deep and 2" diameter. Used the compound to turn the taper, checking it by bluing it against another D1-3 spindle face I have. Blued up well so I finished boring until the spindle would seat. Did the finish face, taking a light cut with a nice fresh tool.
Considered the work for the pins and SHCS locks. Measured up a couple of D1-3 plates and made a few guesses, found the BC for the pins but not the SHCS locks (they're on different BCs). Asked and John Oder told me the BC and angular displacement - with the measurements that was enough to calculate the positions. After quite a bit of work on the mill I have this: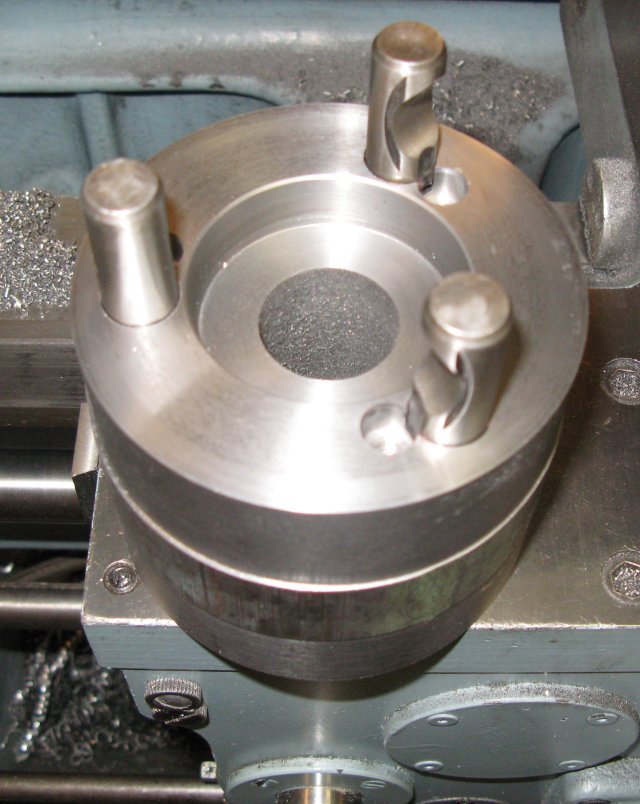 It mounted up nicely: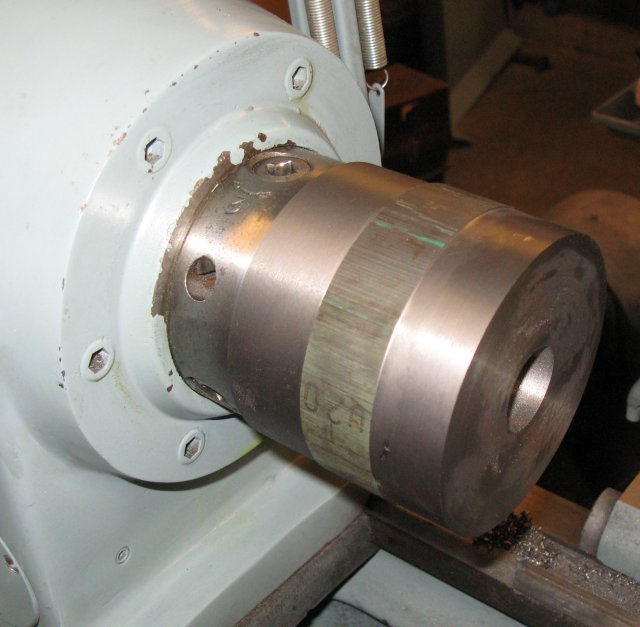 It fits well, you have to bump it with your hand to pop it loose, but it's in contact with the whole spindle face. Perfect.
More work next week - got to bore the 1.250 through (in place it'll end up dead on) and turn the outside to diameter. The I'll put on a 2 3/16 x 10tpi nose (same as Hardinge uses) for mounting the 5C step collets. I'll have to make the 2" step chuck as I've never found one on eBay (not one in my price range, anyway).