Joined

May 11, 2017
Location
I got a gently used TRT70 trunnion from EMTech here a couple months ago, and just plugged it in and tested it out over the holidays. It seems to be working well, and it's really fast, fast enough to jump off the floor if I rapid it 90 degrees while it's sitting loose.
It came with an adapter plate for a 5th Axis D05125 dovetail fixture, so I'll probably get one of those. But many of my parts would be better served by a self centering vise, so while I was saving up for the trunnion, I looked far and wide for one that would fit within the 4" swing. I found a couple options for several hundred to over a thousand dollars, and then lucked upon these, which I've mentioned before: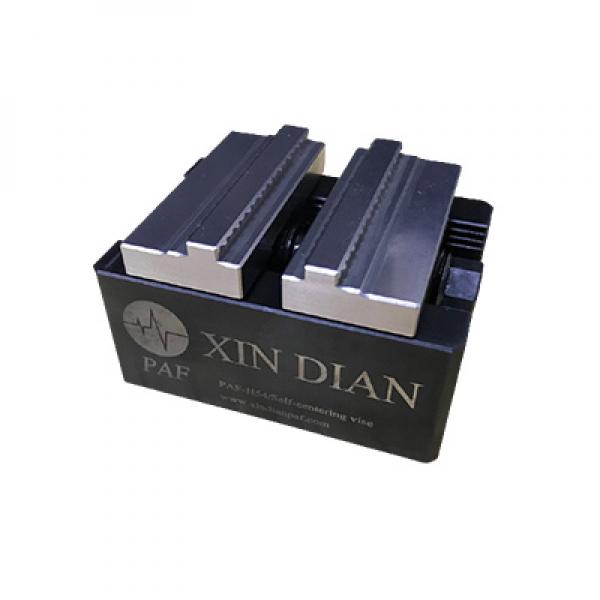 Self-centering Vise EDM Machine CNC 3R EROWA Positioning Self-centering Vise Electrode Fixture Machining Tool Standard 8...
www.robotdigg.com
They're surprisingly tight and well made for $60, and for that I can afford to get several to try things out with. I'm thinking of making a 4th axis fixture with a solid body, hosting three sets of jaws on the top, and three more on the bottom.
I modified one to mount directly to the TRT70, locating with a 3/8" dowel, and holding down with four 10-32 screws to the pattern on the platter. The trunnion has a rated max weight on platter of 3.0 pounds, and the Xin Dian vise is 2.25 pounds by itself. My modified one, shortened and lightweighted, is 1.29 pounds, leaving more headspace for the workpiece, and also dropping it lower toward the CoR.