Joined

Sep 5, 2008
Location
My surface grinder came with an assortment of grinding wheel shaped things.
Some were clearly for bench grinders, or bigger / different machines - they would not fit the spindle or wheel guard. However there were a few the looked possibly correct for the machine:
I think this one might be for off hand grinding?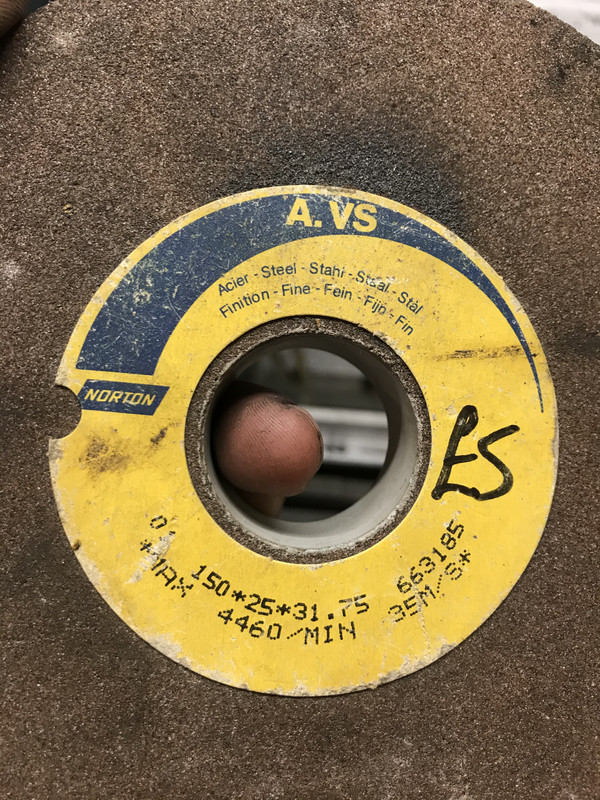 I can see no markings that indicate abrasive, grit size or bond structure. I tried to find A.VS info from Norton but came up blank. Any ideas?
This is a narrow fine grit surface grinding wheel: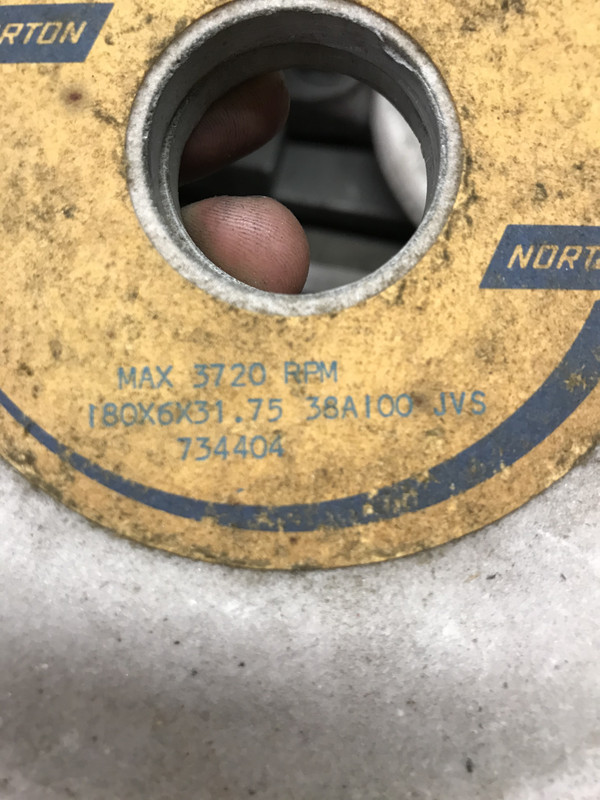 38A alox, 100 grit, J hardness vitrified. No openness marking?
I think this one is for corners / forming to a shape and then grinding that shape into the workpiece?
This is the first wheel I ran. I picked it as it was the most 'surface grindery'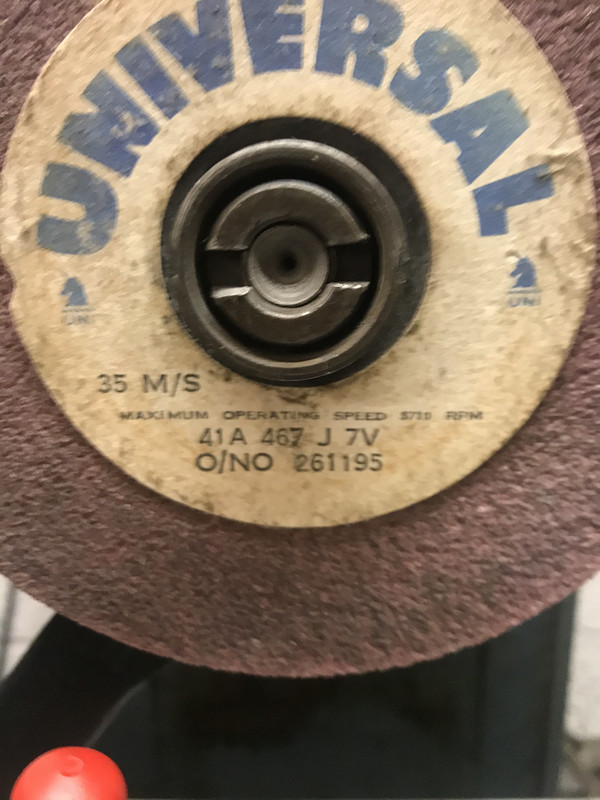 Alox, 46 grit, J hardnesss, 7 structure, vitrified?
I think this is pretty much a 'general purpose' wheel?
Do vitrified wheels have a recommended life? I've had these wheels for around 12 years, and they weren't new when I got them.
I cant see why they would, but I don't know.
Way back in 2008 when I bought my 540 Peter Neill commented:
I'm going to try a new type of wheel out for the next serious grinding job that comes up. I've got the standard white 38A and a blue SG (seeded Gel) wheel which is great for *really* hard stuff, but a hot tip from the toolroom for a great all-round wheel for hard and soft stuff alike is to use a Norton 95A.
These are a blend of standard AlOx with 5% SG grit added, and look like a bowl of oats or a slice of granary bread, but are apparently so versatile that the 38As have practically been consigned to the shelf.
95A was Norton's 5% Seeded Gel Alox wheel - I think its now called Quantum.
Based on this I bought a 'ceramic' 46 grit wheel (
Coventry Grinders Ceramic Grinding Wheels | Abrasives
) and a white 60 grit alox wheel (
White Grinding Wheels - Coventry Grinders | Abrasives
)
I havent actually mounted the white wheel yet, but I believe 'Seeded Gel' wheels are the Norton description for 'ceramic'. So far the ceramic wheel seems to work nicely.
This is a tool makers clamp I made recently from some cold rolled steel I have hanging around: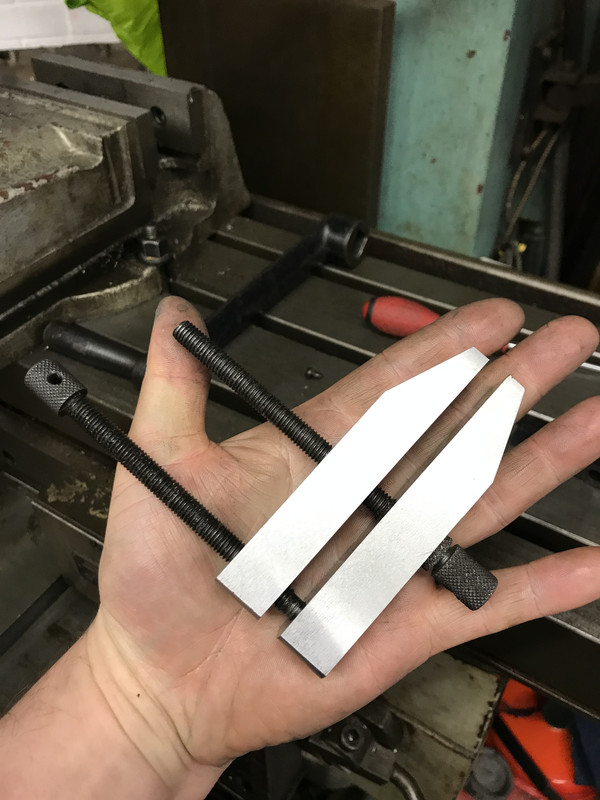 The finish seems ok to me (I'm still learning about speeds and feeds) - the white marks towards the bottom of the pic are coolant hanging around.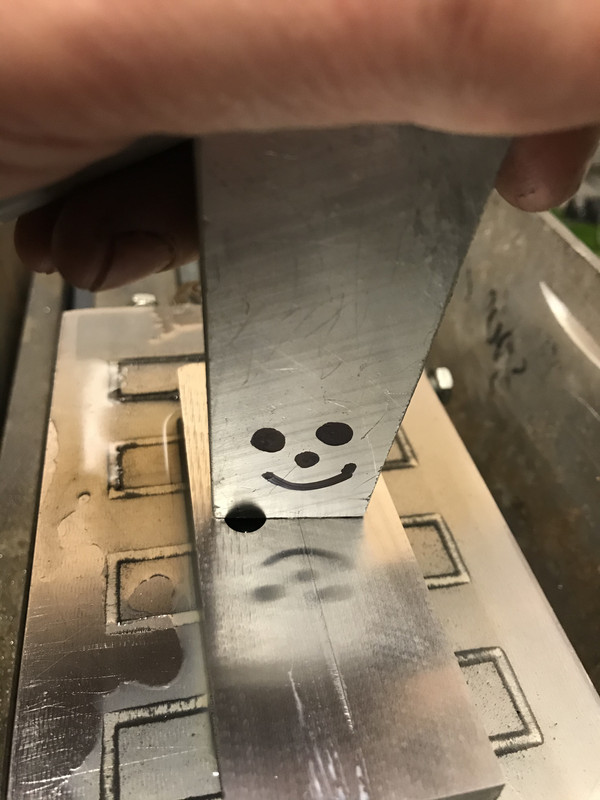 I also made my cast iron flat things (see this thread
https://www.practicalmachinist.com/vb/abrasive-machining/grinding-practice-scrap-cast-iron-378809/
) with this wheel.
Anyone run / running SG wheels?
What other wheels should I look to get?
I'm not a commercial shop, so dont want to have to many wheels. I have 2 wheel flanges at the moment, one is staying on the ceramic wheel - what should I mount on the other?
I envisage generally grinding cast iron, steel in both hardened and 'soft', and the odd bit of HSS / carbide for tooling. When I come across a need in something more exotic I'll ask for specifics.
Dave