Well I finished the modifications after getting some parts from MSC.
Here is a pic that tells the story, it is a before and after on the same part in the same setup, with the same chuck and tool. Parting off, an operation I had never been able to do at all.
Back before the whole mod issue started, I had started trying to part this piece off, but had to quit due to the horrible chatter. The machine was trying to jump off the stand, despite being bolted down.
I quit working on the part, and started trying to figure out what was wrong and what to do. Logan was no particularl help, I think they really weren't sure what to do or what the problem was.
I came up with a theory on the problem, and designed a fix which involved a small modification to the machine. After the mod, I put the part I had trouble with back in the same chuck and had another run at it with the same tool.
The pic.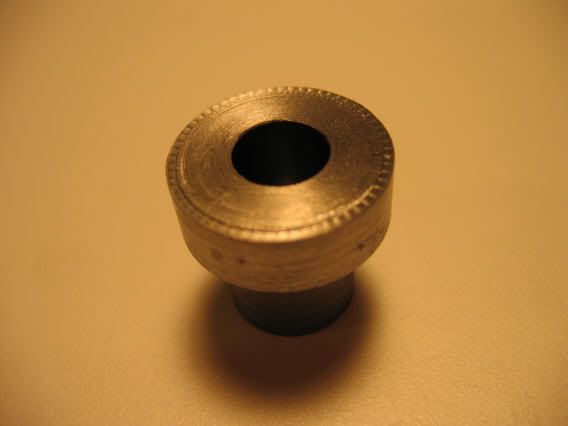 The part is a 0.750 OD bushing. The outer portion, the nasty looking "gear tooth" pattern is the chatter marks from the two attempts to part off prior to the bearing modification. Two speed feed combos, hence two patterns.
The smooth inner portion is the recently parted off surface after the mod. No problems, just needed a change in speed to get it to part off quiet as a mouse. The barest hint of a "hum" was discernible if I didn't get the feed even. This was hand fed parting, with no oil or other cutting lube.
The modification involved no un-reversible work on the machine, so if one wanted, one could put it back to "stock" (if one were really a nutter).
I think it worked quite well.
[ 10-03-2004, 09:58 AM: Message edited by: J Tiers ]